Posts Tagged 'Nikolai Vavilov'
March 3rd, 2017 | Robin
The Hoary Hosts of Patreon backer Elias Helfer command the opening of the Gaming Hut! Therein we shall describe ways to portray weird and magnficent landscapes like those seen in the Doctor Strange movie in roleplaying sessions!
Backer Alex Johnston penetrates the vaunted infosec of the Tradecraft Hut to demand our dossier on Nikolai Vavilov and the Nazi bio-pirates.
You'd think this would be the last segment, but nonetheless How To Write Good looks at crafting climactic sequences.
Then backer Jacob Ansari meets the Consulting Occultist at the baggage carousel to ask about the sorcerous significance of the Denver International Airport.
Snag Ken and Robin merchandise at TeePublic.
---
Wish to introduce innocent children to the horror of the Mythos, while remaining on budget? Atlas Games is here to affordably twist young minds with a buy two, get one free deal on Ken's Mini Mythos line of childrens' book parodies: Where the Deep Ones Are, Cliffourd the Big Red God, Goodnight Azathoth and Antarctic Express.
Want to plunge headlong into Lovecraftian mystery, but lack a gaming group? Want to introduce a friend or loved one to the roleplaying hobby? GUMSHOE One-2-One has come to your rescue! Find this new system by some guy named Robin D. Laws, in the line's flagship title, Cthulhu Confidential. Now pre-ordering at the Pelgrane Press store.
Do intervals between episodes plunge you into Hite withdrawal? Never fear! his brilliant pieces on parasitic gaming, alternate Newtons, Dacian werewolves and more now lurk among the sparkling bounty of The Best of FENIX Volumes 1-3, from returning sponsors Askfageln. Yes, it's Sweden's favorite RPG magazine, now beautifully collected. Warning: not in Swedish.
John Scott Tynes' Puppetland is ready to knock the stuffing out of a game store near you in its gorgeous new full-color hardcover edition. Join the good folks at Arc Dream in battling the horrific forces of Punch the Maker-Killer!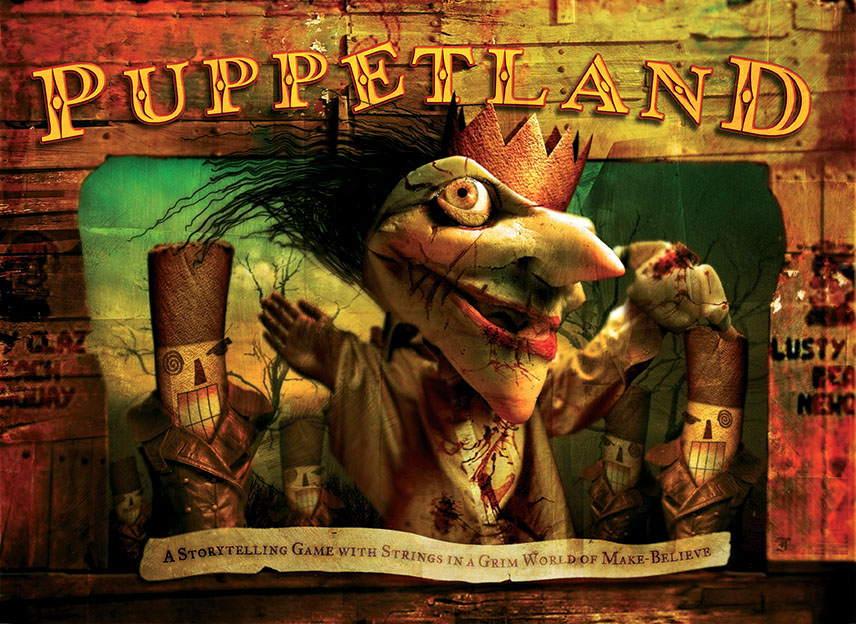 Podcast: Play in new window | Download