Posts Tagged 'surveillance'
November 24th, 2017 | Robin
We've installed additional measures in the Gaming Hut to discuss security camera surveillance and how to stop it from wrecking your mystery plots.
Jump scares await in the Horror Hut as we look at the bogeyman and his pals, the evil spirits.
In Ken and/or Robin Talk to Someone Else, we chat with marketing guru and game designer Wade Rockett.
Which leads us to Ken's Time Machine and a question from Patreon backer Derek Upham, who wants to know about our chrono-protagonist's role in causing the Egg Nog Riot.
Want to pose a question to the show? Get your priority question asking access with your support for the KARTAS Patreon!
Snag Ken and Robin merchandise at TeePublic.
---
In Unknown Armies, Atlas Games' modern-day, occult roleplaying game, you play the heroically broken people who conspire to fix the world. That conspiracy just got easier, with the arrival of the game on store shelves near you!
The book has been written.The book has been read. Now it rewrites you. Across time it spreads, creating dread new realities. And you're in all of them. Robin's epic new GUMSHOE project, The Yellow King Roleplaying Game has concluded its Kickstarter run, but is now available for pre-order at the Pelgrane Store for those who missed it.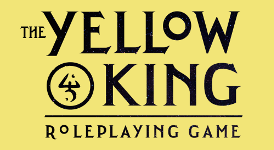 In Highway Holocaust you are Cal Phoenix, the Freeway Warrior, champion and protector of Dallas Colony One. Defend this fragile convoy from H.A.V.O.C. bikers with this exclusive hardcover (with dust jacket and book ribbons), the first choose-your-own-adventure-gamebook in Joe Dever's post apocalyptic series. From the fine folks at FENIX, now available from Modiphius.
Delta Green Game Moderators, take heart! Reinforcements have arrived in the form of the Delta Green Handler's Guide from Arc Dream Publishing, bursting with operational details, threats and eldritch history to keep your players locked, loaded, and terrified.
Podcast: Play in new window | Download
April 7th, 2017 | Robin
Get ready to argue logistics as the Gaming Hut considers player planning. When is it prelude to play, and when is it play?
The Crime Blotter opens one of the most famous cold cases of all: the Black Dahlia murder.
Ask Ken and Robin features a query from Patreon backer Padriag Griffin about the plausibility of hidden societies of vampires or wizards in a world of pervasive surveillance.
Finally the Eliptony Hut catches up on some recent news as we ask why a member of the Moorish sovereign citizen movement might be messing with Yig's digs in Moundville.
Snag Ken and Robin merchandise at TeePublic.
---
Wish to introduce innocent children to the horror of the Mythos, while remaining on budget? Atlas Games is here to affordably twist young minds with a buy two, get one free deal on Ken's Mini Mythos line of childrens' book parodies: Where the Deep Ones Are, Goodnight Azathoth, Cliffourd the Big Red God, and Antarctic Express.
Want to plunge headlong into Lovecraftian mystery, but lack a gaming group? Want to introduce a friend or loved one to the roleplaying hobby? GUMSHOE One-2-One has come to your rescue! Find this new system by some guy named Robin D. Laws, in the line's flagship title, Cthulhu Confidential. Now pre-ordering at the Pelgrane Press store.
Do intervals between episodes plunge you into Hite withdrawal? Never fear! his brilliant pieces on parasitic gaming, alternate Newtons, Dacian werewolves and more now lurk among the sparkling bounty of The Best of FENIX Volumes 1-3, from returning sponsors Askfageln. Yes, it's Sweden's favorite RPG magazine, now beautifully collected. Warning: not in Swedish.
John Scott Tynes' Puppetland is ready to knock the stuffing out of a game store near you in its gorgeous new full-color hardcover edition. Join the good folks at Arc Dream in battling the horrific forces of Punch the Maker-Killer!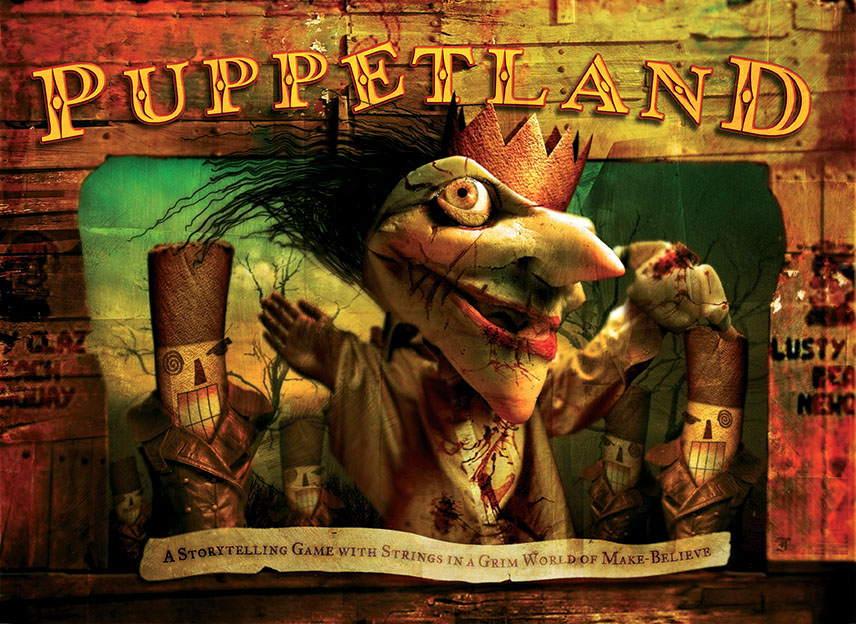 Podcast: Play in new window | Download