Posts Tagged 'captured PCs'
March 23rd, 2018 | Robin
You have nothing to lose but your chains, and also your handcuffs, and possibly also your orange prison scrubs, as the Gaming Hut shows you what to do the next time your PC gets captured.
The Tradecraft Hut probes off-books financial arrangements in covert operations, as inspired by a request from Patreon backer Chris Sellers. Chris wants us to turn this real-life ATF finagle into fodder for Night's Black Agents and Fall of Delta Green.
Backer Michael Maneval, meanwhile, wants the PCs to become meddling kids. In Ask Ken and Robin we mull the ingredients needed to run a Scooby-Doo game.
Finally, in Ken's Time Machine, backer Daniel Fidelman gets back to the classic premise of the segment to ask what our chrono-hero would have to do to add native American states to the American map.
Want to pose a question to the show? Get your priority question asking access with your support for the KARTAS Patreon!
Snag Ken and Robin merchandise at TeePublic.
---
In Atlas Games' wickedly different cooperative deck-building game Witches of the Revolution, you and your doughty coven fight the American Revolution the way it was really fought: with spells aplenty! Resurrect Ben Franklin, cure Paul Revere of lycanthropy and keep those red-coated witch hunters at bay.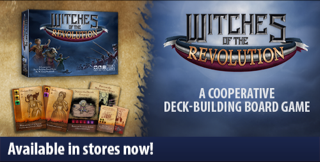 Ken's latest roleplaying game, The Fall of Delta Green, is now available for preorder from Atlas Games. Journey to the head-spinning chaos of the late 1960s, back when everyone's favorite anti-Cthulhu special ops agent hadn't gone rogue yet, for this pulse-pounding GUMSHOE game of war, covert action, and Mythos horror.
Navigate your love of the Lone Wolf game books and/or fantasy inspired by medieval Italy with the Sommerlund Map set Kickstarter from Askfageln. Revel in 1o gorgeous maps inspired by Joe Dever's classic fantasy setting and the city of Bologna.
With your Handlers Guide already at your side, it's time to assemble some operations to spiral your Delta Green operatives into paranoia and Mythos horror. Delta Green: A Night at the Opera features six terrifying adventures from the conspiratorial minds of Dennis Detwiller, Shane Ivey, and Greg Stolze. Preorder before it's desperately too late!
Podcast: Play in new window | Download