Posts Tagged 'mystery structure'
August 3rd, 2018 | Robin
Mystery scenario construction is once again on our minds in the Gaming Hut, as we discuss ways to run a mystery in which the investigators respond to an ongoing spree of murders, monster attacks, or the like.
We make sure the roof of the History Hut is well-patched as we consider the cosmic terror that was the passenger pigeon.
At the request of Patreon backer Timothy Coram, we pop into the Cinema Hut to chat about the giallo, and its application to The Yellow King Roleplaying Game.
Finally the Consulting Occultist profiles Alexander Dugin, a Russian philosopher who combines fascism, synarchy, nationalism and chaos magick under the banner of an oddly familiar eight-pointed arrow star.
Want to pose a question to the show? Get your priority question asking access with your support for the KARTAS Patreon!
Snag Ken and Robin merchandise at TeePublic.
---
The island of Al Amarja may have moved from its classic 1990s location, but don't be fooled. Over the Edge is indeed back, with Jonathan Tweet updating his classic and influential game design. Get ready to duck New Age cultists, baboon-wielding gangsters, twisted assassins when the roleplaying game of weird modern danger is Kickstarting now!
Ken's latest roleplaying game, The Fall of Delta Green, is now available for preorder from Pelgrane Press. Journey to the head-spinning chaos of the late 1960s, back when everyone's favorite anti-Cthulhu special ops agent hadn't gone rogue yet, for this pulse-pounding GUMSHOE game of war, covert action, and Mythos horror.
Grab the translated riches of FENIX magazine in a special bundle deal from our friends at Askfageln, over at Indie Press Revolution. Score metric oodles of Ken Hite gaming goodness, a cornucopia of articles, complete games, plus the cartoon antics of Bernard the Barbarian. Warning: in English, not in Swedish. In English, not Swedish.
Just in time to save the world, though perhaps not your team of hardened covert agents, from the Mythos, the Delta Green Handlers Guide from Arc Dream Publishing is now in print and either at or headed to a game store near you. The slipcase print edition includes both the Handlers' Guide and Agents' Handbook, fitting snugly into your go bag along with your extra passports and list of weapons caches.
Podcast: Play in new window | Download
December 15th, 2017 | Robin
Our throats showing the wear of travel to that most lurghy-inducing of wonderlands, we issue a Travel Advisory on Dragonmeet and the Modigliani show at the Tate Modern in London.
In the Gaming Hut we compare and contrast two ways of structuring mystery scenarios: Robin's Maze of Clues and Ken's Ocean of Clues.
Longtime listeners are already bracing themselves for what comes next. The fall of the British pound places a heavy burden on the structural integrity of Ken's Bookshelf, as he comes back laden with treasures from Treadwell's, Foyle's, and the Tate gift shop.
Want to pose a question to the show? Get your priority question asking access with your support for the KARTAS Patreon!
Snag Ken and Robin merchandise at TeePublic.
---
In Atlas Games' wickedly different cooperative deck-building game Witches of the Revolution, you and your doughty coven fight the American Revolution the way it was really fought: with spells aplenty! Resurrect Ben Franklin, cure Paul Revere of lycanthropy and keep those red-coated witch hunters at bay.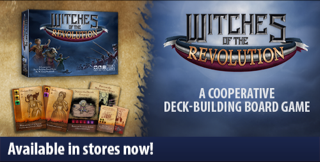 Sink your fangs into an amazing deal as the Dracula Dossier haunts the Bundle of Holding. This bargain is so unbelievable that it can't see itself in the mirror, and ends on December 27th!
For decades Tove Gillbring of Askfageln has been a beacon of Swedish gaming. Now her cancer has returned, and she's determined to focus the rest of her life on an ultimate burst of creative fireworks. Help her husband Anders make that happen by supporting the LOVE TOVE crowdfunding campaign.
Delta Green Game Moderators, take heart! Reinforcements have arrived in the form of the Delta Green Handler's Guide from Arc Dream Publishing, bursting with operational details, threats and eldritch history to keep your players locked, loaded, and terrified.
Podcast: Play in new window | Download