Ken and Robin Consume Media: The Most Important Wolf
May 2nd, 2017 | Robin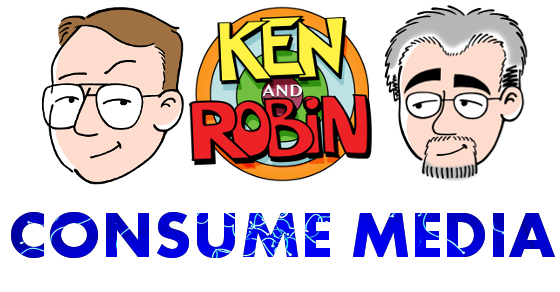 Ken and Robin Consume Media is brought to you by the discriminating and good-looking backers of the Ken and Robin Talk About Stuff Patreon. Each week we provide capsule reviews of the books, movies, TV seasons and more we cram into our hyper-analytical sensoriums. Join the Patreon to help pick the items we'll talk about in greater depth on our new podcast segment, Tell Me More.
The Pinnacle
Hangsaman (Fiction, Shirley Jackson, 1951 / 1964) Repressing an act of traumatic violence, an imaginative seventeen year old attempts to fit amid amid the hothouse environment of a quasi-progressive woman's college. Elusive, hallucinatory coming of age story invokes the Tarot and a touch of cosmic horror while keeping its feet planted in the literary fiction tradition. Ahead of its time in its feminist perspective, this warrants a slot in the canon of mid-century American existential yearning alongside Salinger, Yates, Roth and company.–RDL
Recommended
A Dictionary of Medieval Heroes (Nonfiction, Willem P. Gerritsen and Anthony G. van Melle, 1998) Originally published in Dutch, this compendium only covers 87 heroes, but every one gets an in-depth essay covering at least the main textual threads and sometimes a good deal more. In addition to the Arthurian, Nibelung, and Charlemagne cycles, we get the medieval versions of ancients from Alexander to Troilus, plus wonderful weird heroes like Ysengrimus, "the most important wolf in Western European beast epic." –KH
Bone Tomahawk (Film, US, S. Craig Zahler, 2015) Playing like a beautiful bastard child of The Searchers and The Hills Have Eyes, this horror Western follows Sheriff Hunt (Kurt Russell) and a rudimentary posse to rescue the kidnapped wife (Lili Simmons) of crippled cowboy O'Dwyer (Patrick Wilson) from a band of cannibal troglodytes. The acting and dialogue are first-rate, and the combat sequences brutal and abrupt. Well worth it for fans of cowboys-and-c.h.u.d.s, or of either one, really. –KH
Feud: Bette and Joan (Television, US, Ryan Murphy, 2017) Egged on by wily studio boss Jack Warner (Stanley Tucci), waning screen legends Bette Davis (Susan Sarandon) and Joan Crawford (Jessica Lange) develop a healthy mutual antagonism while shooting What Ever Happened to Baby Jane? Even in the Golden Age of TV, it's amazing that a show with this concept even exists, much less that it's as insightful and affecting as it is. Watch the compositions; no show has ever loved its sets the way "Feud" does.—RDL
Which Way is the Front Line From Here: The Life and Time of Tim Hetherington (Film, US, Sebastian Junger, 2013) Portrait of war cinematographer Hetherington, who with disarming charisma covered conflicts in Liberia, Afghanistan, and Libya, where he was killed in 2011. Pays tribute to its subject both as a man and as an artist before, inevitably and properly, succumbing to the narrative power of its final act, in which the hero ignores the warnings and his own rules and is drawn to poetic doom.—RDL
Good
22 Jump Street (Film, US, Phil Lord & Chris Miller, 2014) Odd couple buddy cops (Jonah Hill, Channing Tatum) strain their relationship when their latest undercover assignment pulls them in different directions. Constructs its biggest running gag around the laziness of sequels and wisely keeps the focus on the chemistry of the Hill-Tatum comedy duo.—RDL
Free Fire (Film, UK, Ben Wheatley, 2017) Late-stage capitalism and toxic masculinity walk into a warehouse and a gunfight breaks out. Or rather, slowly dribbles out — the gangsters and terrorists on either side are authentically terrible shots. Despite Wheatley's clear desire to make a Tarantino-esque film, there's not much verve or dialogue, and he films the gunfight more as a series of character vignettes than as action sequences. Brie Larson and Cillian Murphy are almost wasted; Sharlto Copley, Armie Hammer, and Sam Riley play louder idiots to better effect. Still, it's a good joke even if Wheatley takes his own sweet time telling it. –KH
The Peanuts Movie (Film, US, Steve Martino, 2015) Charlie Brown falls for but can't approach the little red-headed girl; Snoopy battles the Red Baron. Surprisingly faithful translation of the Schulz/Melendez/Mendelson style into the CGI era. The ideal length for Peanuts on screen still seems to be 25 min though.—RDL
Tramps (Film, US, Adam Leon, 2017) Boy meets girl, boy screws up criminal bag drop with girl, boy and girl try to get bag back. Before Sunrise riff showcases charm of its two leads—Grace van Patten in particular has "future movie star" written all over her.—RDL. Seen at TIFF '16; now on Netflix.
Mesmerizingly Terrible
The Fear Makers (Film, US, Jacques Tourneur, 1956) Freed P.O.W. (Dana Andrews, dead drunk in every shot) returns from the Korean War to discover that his business partner has been killed, and his PR firm is now engaged in two terrifying new practices: polling and lobbying. Spoiler: it's the Commies! Talky, set-bound artifact packs a lot of crazy into its micro-budget (a hilariously pro forma romantic subplot, Mel Torme as the sexually harassing office milquetoast), with momentary flashes of trademark style from a clearly down-on-his-luck Tourneur (Cat People, Out of the Past.)—RDL