Ken and Robin Consume Media: Tinker, Tailor, Anarchist, Theosophist
July 11th, 2017 | Robin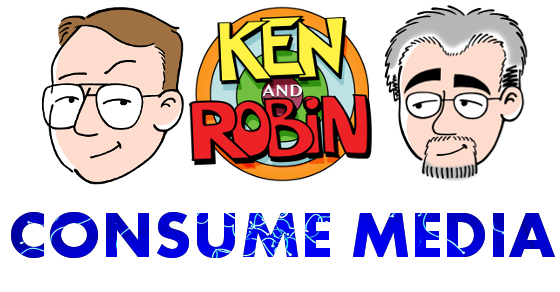 Before we get to our regularly scheduled capsule reviews, let us contemplate the fact that ENnies Voting is now open. If you'd like to show your appreciation for our occasionally humble podcast in voting form, scoot on over to the ENnies voting page and take part in a free and fair election. While there one might also note the various nominations for Bubblegumshoe, which Ken worked on and Robin has his name on, plus nods for TimeWatch and other fine products from our essential sponsors at Pelgrane Press.
Ken and Robin Consume Media is brought to you by the discriminating and good-looking backers of the Ken and Robin Talk About Stuff Patreon. Each week we provide capsule reviews of the books, movies, TV seasons and more we cram into our hyper-analytical sensoriums. Join the Patreon to help pick the items we'll talk about in greater depth on our new podcast segment, Tell Me More.
The Pinnacle
The International Spy Film Guide 1945-1989 (2 vols) (Nonfiction, Richard Rhys Davies, 2016) Two volumes, 1100 pages, 2,240 films from 65 countries. This compendium of every Cold War (by year of production, not by setting) secret agent film you've ever and never heard of breathes mid-century style from each beautifully designed page. Each film gets a brief review, numerical rating, bare-bones credits (director and stars), a beautiful full-color poster, and its release name in other countries: more than enough in this Google-enhanced age. –KH
Recommended
Doctor Who Season 10 (Television, UK, Stephen Moffat, BBC, 2017) Though he has promised to stay on earth to guard an imprisoned Missy, the Doctor can't help taking the TARDIS for a spin or twelve when he takes a shine to new earth friend Bill Potts (Pearl Mackie.) Sure, there's some duds in the middle, but this is the season where Peter Capaldi gets to truly settle into the title role, and the two Masters plus original Cybermen finale leaves on a high note. Great to see John Simm given the chance to play a truly menacing Master this time around.—RDL
GLOW Season 1 (Television, US, Liz Flahive, Carly Mensch & Jenji Kohan, Netflix, 2017) Struggling actress Ruth (Alison Brie) and friend Debbie, a soap star turned mom (Betty Gilpin) get cast in a low-budget women's wrestling show. Complication: Debbie just found out that Ruth slept with her husband. Amiable comedy-drama pays homage to the foursquare storytelling of 80s cinema while keeping its characters real. Though this is an odd thing to say about a show with a strong, female-dominated cast, the standout performance comes from Marc Maron, hilarious and poignant as the sardonic, chronically disappointed director.—RDL
Harold and Lillian: a Hollywood Love Story (Film, US, Daniel Raim, 2015) Documentary reveals the professional and personal lives of storyboard artist (later production designer) Harold Michelson and his wife, studio researcher Lillian Michelson. Throws light on the invisible but key contributions the two Michelsons made to dozens of classic films from the 60s to the 00s, while movingly depicting their marriage and influence on the next generation of film folk.—RDL
Inferno (Nonfiction, August Strindberg, 1897) Memoir recalls the writer's abandonment of theater for alchemy, accompanied by a descent into a persecution mania in which he believes himself tormented by an unseen force, demons, spirits, conspirators and/or theosophists. Remarkably lucid inside view of an intensely sub-rational mental state. And yeah, the alchemy part is in Paris in 1895.—RDL. Thanks to Erik Otterberg for the recommendation.
Silicon Valley Season 4 (Television, US, Mike Judge, HBO, 2017) Setbacks in the latest iteration of Pied Piper bring out Richard's long-latent dark side. What seems like a scattered but still hilarious set of individual episodes reveal a hidden organization behind a season that speeds the pace of the characters' ups and downs.—RDL
Weirdos (Film, Canada, Bruce McDonald, 2016) Nova Scotian teen who hasn't quite come out yet takes his putative girlfriend to the slightly bigger city, where he hopes to stay with his troubled mom (Molly Parker.) Sweet and determinedly unheightened, even in the bits where a spirit guide version of Andy Warhol gives advice to the hero, and drenched in 70s folk rock.—RDL
Good
American Anarchist (Film, US, Charlie Siskel, 2016) In an extended interview conducted in the subject's home in rural France, documentarian Siskel tries to get the thoughtful, caring man who as a 19 year old wrote the bomb-making manual Anarchist's Cookbook to fully grapple with its consequences. Interview format turns on two tensions: between filmmaker and subject, and between present-day William Powell and his radical younger self.—RDL
The Beguiled (Film, US, Sofia Coppola, 2017) Coppola's films usually focus on a woman in an artificial society when that society faces disruption; here Edwina Morrow (Kirsten Dunst) is a spinster teacher at a girls' school in 1864 Virginia, which faces disruption in the person of wounded Union corporal McBurney (Colin Farrell). Shooting the school as a luminous endangered vessel rather than as the Gothic hothouse of Don Siegel's superior 1971 film of the novel, Coppola produces another oblique vision — lovely but not moving. –KH
Chicago: The Second City (Nonfiction, A.J. Liebling, 1952) In three essays in the New Yorker (collected with illustrations by Saul Steinberg) Liebling castigated Chicago as "a vast Canarsie:" provincial, defeated, and most importantly to the unhappily exiled Liebling, most definitely Not New York. Liebling's writing remains terrific, and 1950 was in truth not a great year for the Greatest City In the World. But how do you spend a year, even 1949-50, in Chicago and never mention jazz? –KH
2 Responses to "Ken and Robin Consume Media: Tinker, Tailor, Anarchist, Theosophist"