Ken and Robin Talk About Stuff: Roald in the Spy Factory
April 25th, 2017 | Robin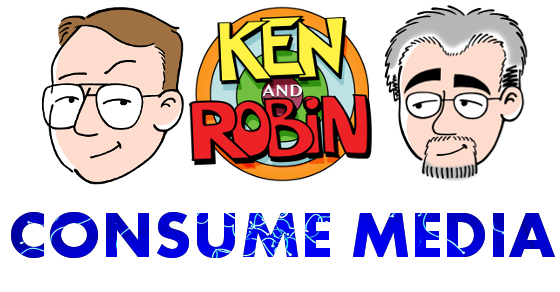 Ken and Robin Consume Media is brought to you by the discriminating and good-looking backers of the Ken and Robin Talk About Stuff Patreon. Each week we provide capsule reviews of the books, movies, TV seasons and more we cram into our hyper-analytical sensoriums. Join the Patreon to help pick the items we'll talk about in greater depth on our new podcast segment, Tell Me More.
Recommended
Girls Season 6 (Television, US, HBO, Lena Dunham & Judd Apatow, 2017) An unexpected pregnancy forces Hanna to reconsider her ever-drifting New York existence and chaotic friendships. The final season of the decade's most polarizing dramedy does as much bow-tying as it can get away with without betraying its theme of messy lives in constant collision with one another.—RDL
The Irregulars: Roald Dahl and the British Spy Ring in Wartime Washington (Nonfiction, Jennet Conant, 2008) Wounded RAF officer and future children's book author goes to Washington at the behest of spymaster William Stephenson to covertly influence US policy, one cocktail at a time. Dahl may not have carried the Walther PPK his colleague and friend Ian Fleming would later put in Bond's hands, but he sure had the seduction part down, including a taxing series of trysts with Clare Booth Luce. Conant presents an engaging narrative from events that in less able hands would fail to excite.—RDL
The Happiest Day in Life of Olli Maki (Film, Finland, Juho Kuosmanen, 2016) Finns pin their hopes on a featherweight contender who is more interested in remaining a small town mensch in love with his girlfriend than coping with the pressure put on him by his ex-fighter manager. Reverses the emotional polarity of the boxing bio: here you're rooting for the hero to escape the dread fate of championship glory.—RDL. Seen at TIFF '16; now in North American theatrical release.
Orbital Cloud (Fiction, Taiyo Fujii, 2014) In 2020, a Japanese space blogger discovers orbital debris in impossible motion, triggering a technothriller race to solve the mystery, resolve the crisis, and save every satellite in LEO from a weaponized electrodynamic tether orbiter. The characters are broad but not annoyingly so, and if the standard technothriller is "competence porn" this is a downright competence orgy. Spies, satellites, and smartphones: what's not to love? –KH
Sand Castle (Film, US, Fernando Coimbra, 2017) During the occupation of Iraq, a reluctant infantryman (Nicholas Hoult) finds purpose when his unit is detailed to protect efforts to rebuild a water station. With its emphasis on driving supplies up and down ambush-ready roads and rebuilding infrastructure in the midst of an insurgency, this addresses the specifics of the conflict it depicts, rather than reskinning pre-existing war film tropes.—RDL
Sound of the Mountain (Film, Japan, Mikio Naruse, 1954) Undemonstrative businessman discovers that his warmest family tie relationship is with his sweet-natured daughter-in-law, who his drunk, disdainful son flagrantly cheats on. Quietly heartbreaking drama exemplifies Naruse's subtle portrayal of thwarted emotion.—RDL
True Story (Film, US, Rupert Goold, 2015) Disgraced reporter (Jonah Hill) gets too close when the accused family annihilator (James Franco) offers him a series of jailhouse interviews. Moody exploration of the ambiguous connection between a sociopath and a man anxious to be fooled.—RDL
Good
De Palma (Film, US, Noah Baumbach & Jake Paltrow, 2015) The director of subversive, shockingly violent suspense serves as sole talking head for a career retrospective illustrated by clips from his and others' films. De Palma freely dishes on his missteps, revealing why his films are as they are, for good and for ill.—RDL
The Lion in the Living Room: How House Cats Tamed Us and Took Over the World (Nonfiction, Abigail Tucker, 2016) The charming writing in this amiable pop-science book masks its only real flaw: it doesn't really know the answer to its question. In fairness, nobody does — cats are hilariously hard to study, and human behaviorists apparently know less than animal behaviorists. Tucker tries to introduce a secondary theme — that cats' hyperpredation, rapid reproduction, and ubiquity make them ecocidal monsters second only to us — but that only runs her into her original question again. –KH
Venus With Pistol (Fiction, Gavin Lyall, 1969) Art smuggler and dealer in antique pistols Bert Kemp gets tangled up in a ever-so-slightly-too-complicated conspiracy to repatriate a millionairess' expropriated fortune in the form of dodgy masterpieces. And then the murders began. Lyall's verbal fireworks aren't quite as on form here and the story is a little staccato, but there's no shortage of classic thriller sequences in this classic art-crime thriller. I love art-crime thrillers, but I'm trying to control for that here: if you too go weak in the knees for a confident paragraph on Giorgione, call it Recommended. –KH