RVIFF Reviews: Herzog Pays Homage, the Wrong Man Thriller Gets Upended, and Cronenberg Shows His Disciples How It's Done
September 10th, 2022 | Robin
A Ken and Robin Consume Media Special Feature
At the end of last year's Toronto International Film Festival, my wife Valerie and I decided to break up with it, after decades of attendance. We have replaced it with RVIFF, the Robin and Valerie International Film Festival. It's the festival you can play along with at home, with a curated roster of streaming titles I'm excited to see. Daily capsule reviews roll out throughout the festival, with a complete list in order of preference dropping a day or two afterwards. Review ratings are out of 5.
My Name Is Gulpilil (Australia, Molly Reynolds, 2021, 4) In the late stages of lung cancer, actor David Gulpilil, who represented the Australian indigenous experience on-screen from the age of 14 to 64, looks back on his career, personal struggles, and connection to his culture. Sticks to the POV of its frank, straightforward subject, skipping the sincere but unilluminating tributes from colleagues that fill out the standard arts profile documentary.
Scarborough (Canada, Shasha Nakhai & Rich Williamson, 2021, 2.5) Families attending a parenting and literacy drop-in center in a low-income neighborhood experience travails and triumphs. With so many issues stuffed into one movie, this is the Love Actually of social realist movies, and not without the heavy-handedness the genre has always indulged.
Coppers (Canada, Alan Zweig, 2019, 4) Retired Ontario police officers recount their often hair-raising experiences as coppers and the struggles with PTSD, alcoholism and other members of the force that resulted from them. Zweig, master of the interview documentary, lets his subjects explore the gnarly paradox of policing—that the job inherently turns people who do it into people who shouldn't.
This one even has an Eliptony Hut angle, as one officer describes police contact with a poltergeist, driving past the apartment where it manifested as he does so.
Hive (Kosovo, Blerta Basholli, 2021, 4) Determined woman (Yllka Gashi) assembles fellow presumed widows of Kosovo War ethnic cleansing to form a company to make pepper preserves, defying village prejudices against women driving or working. Incisively told social drama features committed, immediate performances.
Sheep Without a Shepherd (China, Sam Quah, 2019, 4) Movie-mad, hard-pressed supplier of Internet hardware plots to cover up his daughter's killing of her abuser as he attacked her mother—but his mother, a corner-cutting police chief (Joan Chen), is determined to find out what happened. Presented in hyper-accentuated style that might be expressed in the equation ((John Woo + Tony Scott) × Bollywood), this upends the wrong man thriller into a premise where the protagonists did do it and we're rooting for them to get away with it.
This is a remake of a 2013 Indian film. Since the plot revolves around corrupt cops, it can't be set in mainland China and pass censorship, and so takes place among the Chinese community in Thailand.
Nomad: in the Footsteps of Bruce Chatwin (UK, Werner Herzog, 2019, 4) Herzog conducts another of his documentary journeys of wonder and reverence, encountering ley lines, songlines, and the totemic powers of a life-saving rucksack, in tribute to his friend Bruce Chatwin, whose novel he adapted into his 1987 film Cobra Verde. In vowing to ensure that the protagonist is not himself but Chatwin, who was like a brother to him, Herzog reveals more of himself than perhaps any other of his many works.
Crimes of the Future (Canada, David Cronenberg, 2022, 4) In a kinky near future where pain is a rarity, performance artists Saul Tenser (Viggo Mortensen) and Caprice push the boundaries of their work, which features the elaborate removal of the novel organs he grows with his Accelerated Evolution Syndrome. Cronenberg shows his imitators how it's really done, splicing the throughline of 8½ into body horror and finding the destruction in the creative process.
Due to moderate demand, the RVIFF shirts I made for the two of us are now available in the Ken and Robin merch store.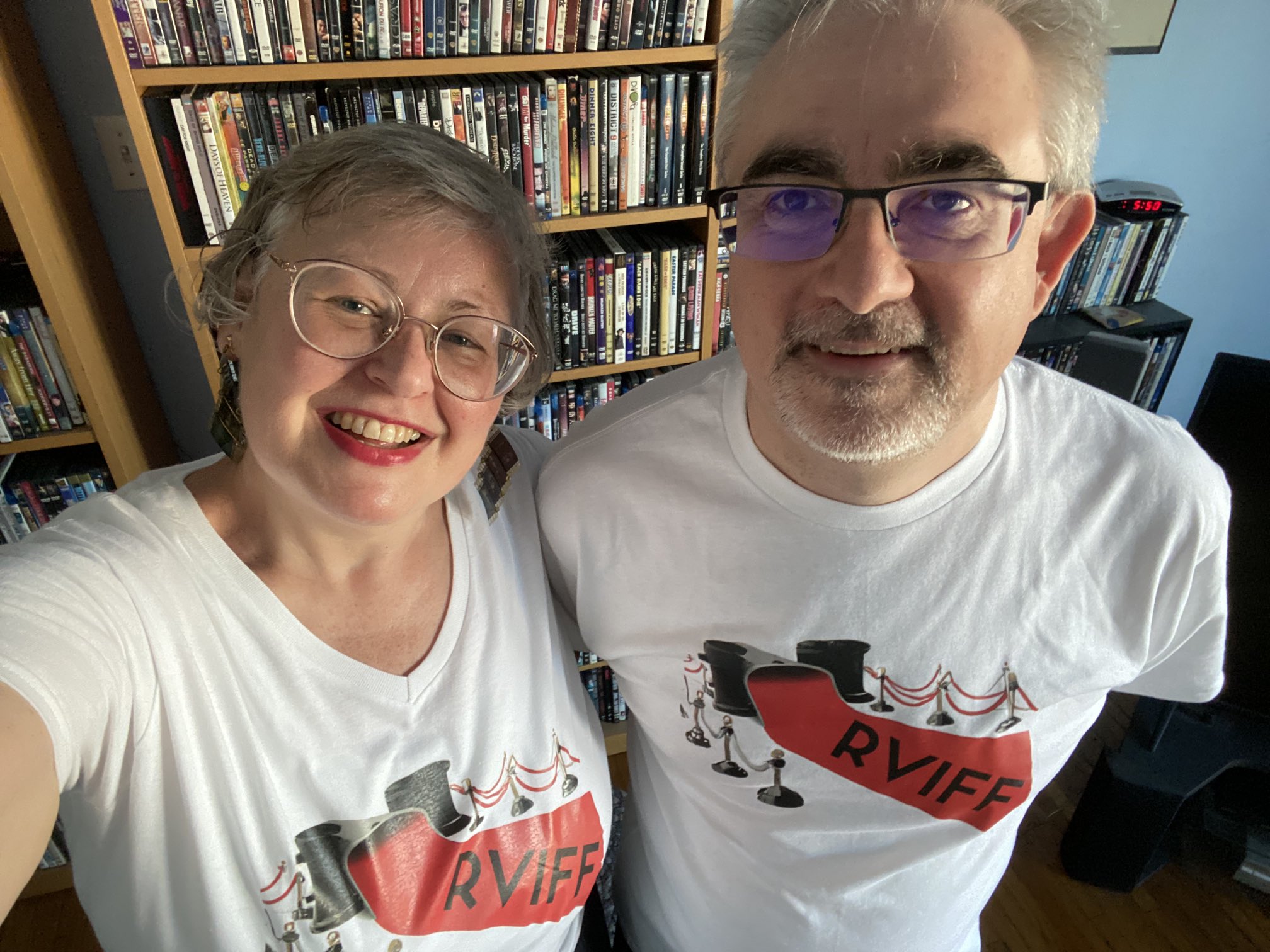 ---
---
If you enjoy this special text feature of the Ken and Robin Talk About Stuff podcast and don't already support our Patreon, consider tossing a few bucks in the tip jar. Or check out my book on action films and their roleplaying applications, Blowing Up the Movies. Or the roleplaying game inspired by the Hong Kong films I first encountered at TIFF, Feng Shui 2.