Posts Tagged 'Crime Blotter'
February 10th, 2017 | Robin
In the Gaming Hut we ask ourselves how far rules and GM influence should go to prevent the players from idiot plotting their own characters.
Speaking of gaming the system, esteemed Patreon backer Jeremy Forbing acts as a stalking horse for a certain shadowy figure to convene the Politics Hut. With a mysterious knowledge of Ken's thought processes, Jeremy asks for his theory on how Trump will destroy the Republican party.
On the Crime Blotter we find a report about Los Angeles organized crime in 1937, which just coincidentally happens to feature in Cthulhu Confidential.
Finally at the behest of backer and Hillfolk illustrator Jan Pospisil, the Eliptony Hut considers the connection between Rhesus blood factor and survivors of Atlantis.
Want to pose questions of your own? Support the KARTAS Patreon!
Snag Ken and Robin merchandise at TeePublic.
---
Sleepers awake, and travel through the secret pathways of the occulted world to preorder the new edition of Unknown Armies from Atlas Games. From the deluxe printed edition to ebooks in a variety of formats, the weird wonders of UA beckon!
Want to plunge headlong into Lovecraftian mystery, but lack a gaming group? Want to introduce a friend or loved one to the roleplaying hobby? GUMSHOE One-2-One has come to your rescue! Find this new system by some guy named Robin D. Laws, in the line's flagship title, Cthulhu Confidential. Now pre-ordering at the Pelgrane Press store.
Do intervals between episodes plunge you into Hite withdrawal? Never fear! his brilliant pieces on parasitic gaming, alternate Newtons, Dacian werewolves and more now lurk among the sparkling bounty of The Best of FENIX Volumes 1-3, from returning sponsors Askfageln. Yes, it's Sweden's favorite RPG magazine, now beautifully collected. Warning: not in Swedish.
John Scott Tynes' Puppetland is ready to knock the stuffing out of a game store near you in its gorgeous new full-color hardcover edition. Join the good folks at Arc Dream in battling the horrific forces of Punch the Maker-Killer!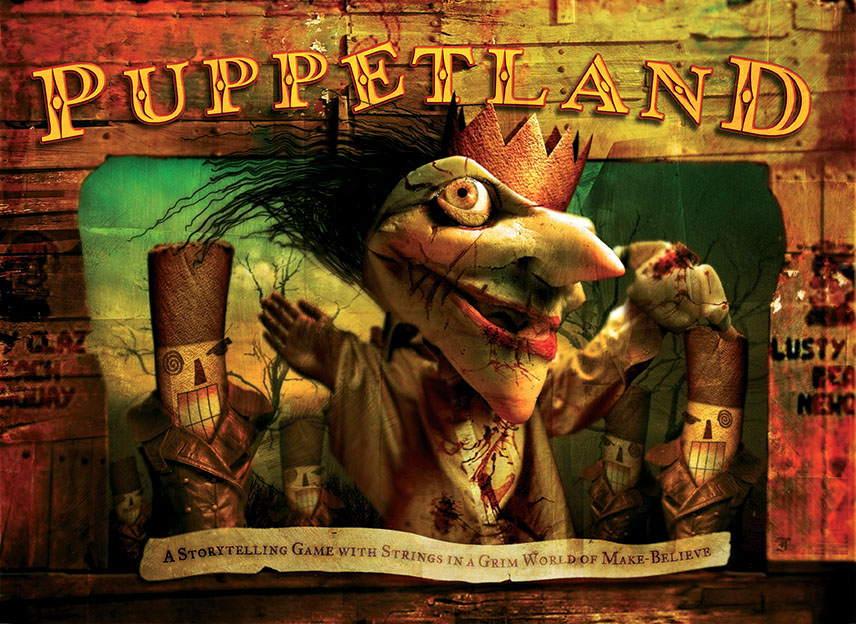 February 27th, 2015 | Robin
We start with an Ask Ken and Robin question from Ethan Cordray, who wants to know how a GM and player might collaborate in creating scenarios.
Inspired by this Malcolm Gladwell piece, the Crime Blotter examines the changing relationship between organized crime and upward mobility.
Fun with Science plays with your perceptions for a look at hallucinations and synaesthesia. Recommended reading: Oliver Sacks' Hallucinations.
Speaking of reading, we conclude with another paw through Ken's Bookshelf, this one cataloguing the haul from his recent jaunt to San Francisco.
---
Attention, class! Anchor sponsor Atlas Games wants to enroll you in Mad Scientist University, the card game of evil genius, insane assignments, and unstable elements. Act now, Ken and Robin listeners, and they'll throw in the Spring Break expansion set for free. Shipping within the US is also free.
This episode is also brought to you by the Plot Points podcast. After you listen to us, listen to them analyze RPG adventures as literature.
Modern Myths wants you to know about its booth, a veritable oasis of roleplaying both indie and trad, at PAX East, right across from Indie Games on Demand.
September 26th, 2014 | Robin
Before getting to the main meat of the episode, a Preamble Hut seems necessary to update a few stories of interest to KARTAS listeners. So gather round as Ken dispatches fresh claims of a DNA solution to the Jack the Ripper mystery, and Robin covers the latest bizarre twist in the Rob Ford saga. Or is that now the Doug Ford saga?
Then nestle in with your popcorn as Robin reports back from the Toronto International Film Festival for the 2014 edition of an obligatory Cinema Hut.
Ken's Time Machine departs from formula to contemplate an omnibus question from Fridrik Bjarnason.  Which characters in history are so serendipitous or unlikely that they must have been undercover time-travelers?
Finally, Among My Many Hats sees Robin chatting about Feng Shui 2, which is Kickstarting even as we speak.
September 12th, 2014 | Robin
Questions of pacing kick us into fall, as Ask Ken and Robin tackle a query from listener Michael Bowman.
In Crime Blotter we hunker down in our tarmac-damaging humvee to consider the trend of police militarization that catapulted to world attention in the wake of the Ferguson protests.
Ken and Robin Recycle Audio serves up the promised second helping of GUMSHOE scenario design master class.
Then in Ken's Time Machine our intrepid chrononaut shortens the US Civil War.
Lead sponsor Atlas Games sharpens your desire for a project near and dear to Robin's heart, not to mention a good chunk of his year so far. It fires off warning shots concerning the upcoming Kickstarter for Feng Shui 2! Click the link to be notified when the campaign goes live.
April 11th, 2014 | Robin
The Gaming Hut rings with the sound of accents and impressions as we examine the role of voice work in GMing.
The Crime Blotter finds a surprising nexus of grift, elephant materialization and the technological spread of 20th century entertainment in the person of Harry Thurston. A less famous follower in his magician brother Howard's footsteps, Harry made his influence felt through connections to the Chicago mob.
We drink deep of mead, wine, beer and polyglot alcoholic beverages in the Food Hut, as we take a look at prehistoric and ancient drinking. A bookshelf hat tip goes out to Uncorking the Past by Patrick E. McGovern.
Get sleepy, very sleepy, letting go of cares and worries as the Consulting Occultist casts your mind toward the tale of Franz Anton Mesmer.
It's yo ho ho and a pocketful of doubloons as Atlas Games surveys the seven seas from the crow's nest that is our coveted anchor sponsor slot. Parrot on its shoulder, it orders up another special deal for Ken and Robin listeners, this time in the form of their innovative game of piratical nautical warfare, Pieces of Eight.
After ten years delighting the Swedish gaming scene, our pals at Fenix Magazine now bring the Best of Fenix to English-language GMs and players with their now-active Indiegogo campaign. This project so resounds with Hitean goodness that you have surely chipped in already. But if you haven't, that burning bird of prey is still passing the hat.
February 14th, 2014 | Robin
We start this episode in the Gaming Hut, where we bat around ways to activate your player character's character hook.
In our new segment, Crime Blotter, we examine the four categories of hit man, as proposed by a recent Birmingham City University study of British hired killers.
Tropes face off against cliches as we once again tell you How to Write Good.
Then Ken dons his Consulting Occultist regalia to tear the lid off the djinn menace.
Once again Fenix Magazine occupies the coveted anchor sponsor slot. After ten years delighting the Swedish gaming scene, they're now bringing the Best of Fenix to English-language GMs and players with their now-active Indiegogo campaign.
Clank about in chivalric armor in fealty to Atlas Games, now unveiling Enchanting Tales, the exciting new expansion for their classic Once Upon a Time card game.