Posts Tagged 'Meet Senator Hite'
May 26th, 2017 | Robin
We know you want to hear about it, so Among Our Many Hats digs into the announcement that a certain Ken Hite will serve as lead designer for the new edition of Vampire: the Masquerade.
But that's not all the hats! Then Robin looks at ways to use the Story Beats web app, which allows you to easily create narrative maps as seen in Hamlet's Hit Points and his upcoming Beating the Story.
In an Ace Double of a segment, the Tradecraft Hut provides a backgrounder on the Trump intel spill. Then we sashay to a timeline next door to Meet Senator Hite and see what, if anything, he plans to do about it.
And when Ken was in Berlin getting his fangs fitted, he took time out to visit a museum. Hence, the Consulting Occultist recounts the wonders of the alchemy exhibit at the Kulturforum.
Want to pose a question to the show? Get your priority question asking access with your Support for the KARTAS Patreon!
Snag Ken and Robin merchandise at TeePublic.
---
In Unknown Armies, Atlas Games' modern-day, occult roleplaying game, you play the heroically broken people who conspire to fix the world. That conspiracy just got easier, with the arrival of the game on store shelves near you!
Want to plunge headlong into Lovecraftian mystery, but lack a gaming group? Want to introduce a friend or loved one to the roleplaying hobby? GUMSHOE One-2-One has come to your rescue! Find this new system by some guy named Robin D. Laws, in the line's flagship title, Cthulhu Confidential. Now shipping at the Pelgrane Press store.
Do intervals between episodes plunge you into Hite withdrawal? Never fear! his brilliant pieces on parasitic gaming, alternate Newtons, Dacian werewolves and more now lurk among the sparkling bounty of The Best of FENIX Volumes 1-3, from returning sponsors Askfageln. Yes, it's Sweden's favorite RPG magazine, now beautifully collected. Warning: not in Swedish.
John Scott Tynes' Puppetland is ready to knock the stuffing out of a game store near you in its gorgeous new full-color hardcover edition. Join the good folks at Arc Dream in battling the horrific forces of Punch the Maker-Killer!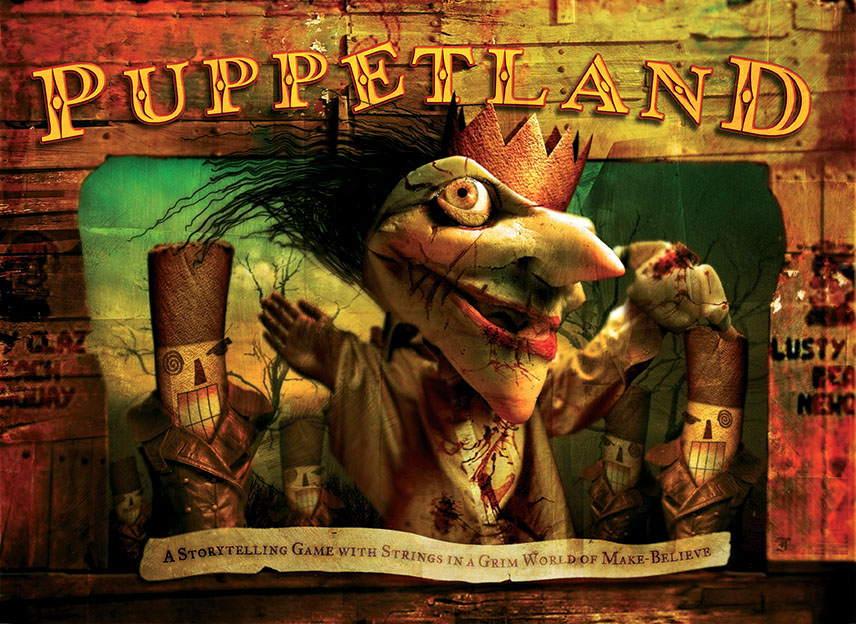 Podcast: Play in new window | Download