Posts Tagged 'texas'
November 3rd, 2017 | Robin
Evade lasting shame by joining us for tea and scones in the Gaming Hut, where Patreon backer Tom Abella asks us to riff on the subject of social spirals.
Sneak into the Tradecraft Hut for a look back at the career of WWII spy Jeanne Rousseau.
Ken has oft-spoken of the dire Bochcoization. Now Robin turns on the Television Hut to alert all and sundry to its heir, the inexorable Abramsification.
Finally the Eliptony Hut goes cigar-shaped as it unearths the shattering truth behind the Aurora Airship Crash.
Want to pose a question to the show? Get your priority question asking access with your support for the KARTAS Patreon!
Snag Ken and Robin merchandise at TeePublic.
---
In Unknown Armies, Atlas Games' modern-day, occult roleplaying game, you play the heroically broken people who conspire to fix the world. That conspiracy just got easier, with the arrival of the game on store shelves near you!
The book has been written.The book has been read. Now it rewrites you. Across time it spreads, creating dread new realities. And you're in all of them. Robin's epic new GUMSHOE project, The Yellow King Roleplaying Game has concluded its Kickstarter run, but is now available for pre-order at the Pelgrane Store for those who missed it.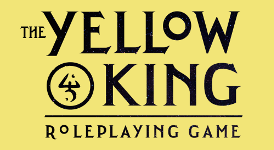 In Highway Holocaust you are Cal Phoenix, the Freeway Warrior, champion and protector of Dallas Colony One. Defend this fragile convoy from H.A.V.O.C. bikers with this exclusive hardcover (with dust jacket and book ribbons), the first choose-your-own-adventure-gamebook in Joe Dever's post apocalyptic series. From the fine folks at FENIX, now available from Modiphius.
John Scott Tynes' Puppetland is ready to knock the stuffing out of a game store near you in its gorgeous new full-color hardcover edition. Join the good folks at Arc Dream in battling the horrific forces of Punch the Maker-Killer!
Podcast: Play in new window | Download
April 1st, 2016 | Robin
We start with Ask Ken and Robin, as Patreon supporter Ross Ireland asks us to tell our best crazy game stories.
Then it's off to the History Hut to consider the troubled Presidency of a guy who really couldn't get a Supreme Court nominee approved, John Tyler.
In our inaugural edition of Tell Me More, three items from Ken and Robin Consume Media, as approved by our patrons over on the Patreon, get expanded treatment: The Secret History of Wonder Woman, the Dictionary of Deities and Demons in the Bible, and Deadpool.
Finally current events have again conspired to provide us with one of those fabled Nerdtropes in the News. What strangeness links the International Order of St Hubertus with the Marfa Lights?
---
Bend reality to your will, but be ready to pay the price, as Atlas Games' Unknown Armies bubbles up from the supernatural underground for a weird and majestic new Kickstarter campaign.
Ken fans who did not partake of the Kickstarter can now sink their fangs into the general release of the Dracula Dossier from Pelgrane Press, consisting of the Director's Handbook and Dracula Unredacted.
If you're like every roleplayer we know, you strive to outshine others in showing your love of dice. Well, now you can arouse the envy of friends and foes alike with Askfageln's dazzling coffee table photo art book dedicated to all things pipped and many-sided, Dice: Rendezvous with Randomness. Luxuriate in the photo artistry of Mans Danneman. Grab the book or gorgeous prints through their Kickstarter!
In a move that surely violates someone's security clearance, this episode is also brought to you by our friends at Arc Dream Publishing. The Kickstarter for Delta Green: the Roleplaying Game has come to an end, but don't let that stop you from indulging your fever for this classic game, or that pinnacle of the Cthulhu game zine world, The Unspeakable Oath.
Podcast: Play in new window | Download