Posts Tagged 'Abramsification'
November 3rd, 2017 | Robin
Evade lasting shame by joining us for tea and scones in the Gaming Hut, where Patreon backer Tom Abella asks us to riff on the subject of social spirals.
Sneak into the Tradecraft Hut for a look back at the career of WWII spy Jeanne Rousseau.
Ken has oft-spoken of the dire Bochcoization. Now Robin turns on the Television Hut to alert all and sundry to its heir, the inexorable Abramsification.
Finally the Eliptony Hut goes cigar-shaped as it unearths the shattering truth behind the Aurora Airship Crash.
Want to pose a question to the show? Get your priority question asking access with your support for the KARTAS Patreon!
Snag Ken and Robin merchandise at TeePublic.
---
In Unknown Armies, Atlas Games' modern-day, occult roleplaying game, you play the heroically broken people who conspire to fix the world. That conspiracy just got easier, with the arrival of the game on store shelves near you!
The book has been written.The book has been read. Now it rewrites you. Across time it spreads, creating dread new realities. And you're in all of them. Robin's epic new GUMSHOE project, The Yellow King Roleplaying Game has concluded its Kickstarter run, but is now available for pre-order at the Pelgrane Store for those who missed it.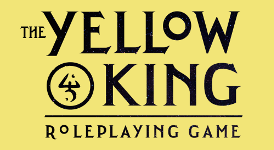 In Highway Holocaust you are Cal Phoenix, the Freeway Warrior, champion and protector of Dallas Colony One. Defend this fragile convoy from H.A.V.O.C. bikers with this exclusive hardcover (with dust jacket and book ribbons), the first choose-your-own-adventure-gamebook in Joe Dever's post apocalyptic series. From the fine folks at FENIX, now available from Modiphius.
John Scott Tynes' Puppetland is ready to knock the stuffing out of a game store near you in its gorgeous new full-color hardcover edition. Join the good folks at Arc Dream in battling the horrific forces of Punch the Maker-Killer!
Podcast: Play in new window | Download