Ken and Robin Consume Media: Mutants, Propaganda, and a Stage Play
April 4th, 2017 | Robin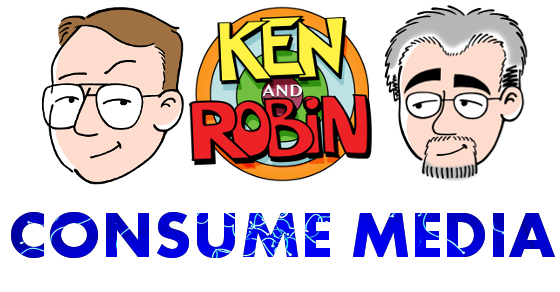 Ken and Robin Consume Media is brought to you by the discriminating and good-looking backers of the Ken and Robin Talk About Stuff Patreon. Each week we provide capsule reviews of the books, movies, TV seasons and more we cram into our hyper-analytical sensoriums. Join the Patreon to help pick the items we'll talk about in greater depth on our new podcast segment, Tell Me More.
Recommended
Army (Film, Japan, Keisuke Kinoshita, 1944) Three generations of a Japanese family hew to a militaristic ethos that brings them nothing but frustration and pain. A movingly anti-war film, made during the war, and paid for by the Japanese army, who thought they were funding rousing propaganda. They must have only read the dialogue, in which the characters speak in heartless slogans, without envisioning acting and direction that would reveal them as tragically misguided.—RDL
Colossal (Film, Canada, Nacho Vigalondo, 2017) After returning to her hometown to regroup, a hard-drinking ex-journalist (Anne Hathaway) discovers a link between her actions and the kaiju attacking Seoul, half a world away. Vigalondo delivers another delightful genre smush-up with this character-driven comedy/drama/monster piece. With Tim Blake Nelson and Jason Sudeikis, who gets to do a turn we haven't seen from him before.–RDL Seen at TIFF '16; now in theatrical release.
The Drunken Botanist: The Plants That Create the World's Great Drinks (Nonfiction, Amy Stewart, 2013) Comprehensive survey of the plants we turn into booze, and the herbs, fruits, nuts flowers, spices and trees we use to flavor them. Will have you hankering for impossible-to-source liqueurs, which you might sip while regaling your companions with alcoholic fun facts. Includes cocktail recipes and gardening tips.—RDL
Five Came Back (Television, US, Netflix, Laurent Bouzereau, 2017) Documentary miniseries follows the work of Hollywood directors John Ford, William Wyler, Frank Capra, George Stevens and John Huston for the armed forces in WWII. Bouzereau, the go-to director for historical moviemaking docs, captures both the emotion and the aesthetic paradox behind a quest to create propaganda without sacrificing artistry or truth.—RDL
Legion Season 1 (Television, US, FX, 2017)  When he falls for a fellow mental patient who doesn't like to be touched (Rachel Keller), a diagnosed schizophrenic (Dan Stevens) journeys through his mind to discover that his delusions might just be real–making him a mutant of unprecedented power. Injects Marvel's X-universe with surreal humor and a giddy sense of style, while still delivering the straight-up superhero stuff when it needs to.–RDL
The Woman in Black (Play, Stephen Mallatratt, 1987) Based on the novella of the same name by Susan Hill, the play presents that book's protagonist Arthur Kipps as he attempts to exorcise his decades-earlier sighting of the Woman in Black by … performing it as a stage play. Remarkable story economy and tension create legitimate horror on stage, drawing the audience in through the narrative layers to the tragic heart of the ghostly tale. (Seen in a terrific production by Chicago's WildClaw Theatre, playing through April 23.) –KH
Good
Ghost Mountaineer (Film, Estonia, Urmas Eero Liiv, 2015) In 1989 a mixed group of Estonian students goes mountain climbing in the Siberian mountains of Buryatia, and bad doings transpire. Shot as a mix of documentary, thriller, and nature film, this flick ambitiously combines the two keys to a great ghost story (setting and psychology) with political horror, social horror, and enough other elements to unbalance things nigh completely. But for four acts out of five, it's gripping, icy, and unpredictable. –KH
Lone Survivor (Film, US, Peter Berg, 2013) Navy SEAL strike force hunting a Taliban leader finds itself outgunned and out of contact with air support. Establishes an interesting but never quite resolved tension between its desire to pay tribute to the men who died in the real incident it portrays, and its depiction of warfare as an arbitrary hell no amount of self-mastery can tame. Stars Mark Wahlberg, Ben Foster and Taylor Kitsch.—RDL
The Sunshine Makers (Film, UK, Cosmo Feilding-Mellen, 2015) Documentary tells the story of the brash front man and spectrumy scientist who teamed up to produce and distribute the sixties' most famous LSD tablet. Portrait of the nerdiest drug underground finds its poignancy in the contrast between youthful heedlessness and the protagonists' present dotage.—RDL