Posts Tagged 'Crowley'
March 15th, 2019 | Robin
The Gaming Hut delves into a design issue at the behest of Patreon backer Mikey Hamm, who wants to know how to balance player options against the archetypal experience of a game.
We keep mentioning him, and now backer Sam Harris demands an entire Book Hut segment on Canadian literary critic Northrop Frye.
Get ready for a tough fight as we inaugurate the brand new Monster Hut with a look at the bugbear.
Finally backer Chris Kalley visits the Consulting Occultist to learn about military theorist, Thelemite and fascist J. F. C. Fuller.
Want to pose a question to the show? Get your priority question asking access with your support for the KARTAS Patreon!
Snag Ken and Robin merchandise at TeePublic.
---
A precious few Deluxe copies of  Cogs and Commissars, clever card game of are available directly from Atlas Games.  The "Most-Equal 'Apparatchik' Edition" features wooden screen-printed Citizen tokens, neoprene mats for each faction leader, and a foil-stamped, spot-gloss, magnetic-closure box. Seize the means of collectibility!
Ken's latest roleplaying game, The Fall of Delta Green, is now available in print or PDF or both from Pelgrane Press. Journey to the head-spinning chaos of the late 1960s, back when everyone's favorite anti-Cthulhu special ops agency hadn't gone rogue yet, for this pulse-pounding GUMSHOE game of war, covert action, and Mythos horror.
The treasures of Askfageln can be found at DriveThruRPG. Get all issues of FENIX since 2013 available in special English editions. Score metric oodles of Ken Hite gaming goodness, along with equally stellar pieces by Graeme Davis and Pete Nash.Warning: in English, not in Swedish. In English, not Swedish. While you're at it, grab DICE, Western, and Freeway Warrior!
Cthulhu. Hastur. Who's the Great Old One, and who's the GREATEST Old One? Time to find out. It's WRESTLENOMICON, the card game from veterans of Magic: The Gathering, Dungeons & Dragons, Epic Spell Wars, and Delta Green, now on Kickstarter!
Podcast: Play in new window | Download
January 5th, 2018 | Robin
It's 2018 and we're back, starting as usual in the Gaming Hut. Within its cozy confines we answer a question from a mystery backer on achieving genuine emotional investment in roleplaying.
The History Hut unfolds its secret plans at the behest of Patreon backer Antti Elomaa, who wants to know why military operations have such evocative names.
The Narrative Hut looks at the evolution of the American anti-hero from the 30s to today.
Finally, backer Tim Vert checks in with the Consulting Occultist on the status of a possible eclipse child.
Want to pose a question to the show? Get your priority question asking access with your support for the KARTAS Patreon!
Snag Ken and Robin merchandise at TeePublic.
---
In Atlas Games' wickedly different cooperative deck-building game Witches of the Revolution, you and your doughty coven fight the American Revolution the way it was really fought: with spells aplenty! Resurrect Ben Franklin, cure Paul Revere of lycanthropy and keep those red-coated witch hunters at bay.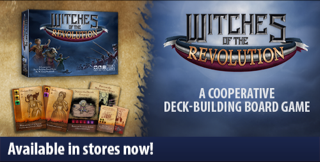 It wasn't on the maps. No one talked about it. But now you live there. Cthulhu City. Where the mayor goes everywhere with twin sacred jaguars, and the chief of police blinks at your with fishy eyes. Where the cultists run city hall and the investigators are hunted criminals. Cthulhu City, the new Trail of Cthulhu sourcebook from Pelgrane Press, by Gareth Ryder-Hanrahan.
For decades Tove Gillbring of Askfageln has been a beacon of Swedish gaming. Now her cancer has returned, and she's determined to focus the rest of her life on an ultimate burst of creative fireworks. Help her husband Anders make that happen by supporting the LOVE TOVE crowdfunding campaign. Please note that the campaign moved to GoFundMe after this episode was recorded.
Delta Green Game Moderators, take heart! Reinforcements have arrived in the form of the Delta Green Handler's Guide from Arc Dream Publishing, bursting with operational details, threats and eldritch history to keep your players locked, loaded, and terrified.
Podcast: Play in new window | Download
September 23rd, 2016 | Robin
Take a reality check before you dare to enter the Gaming Hut, as we answer Patreon backer Bryan's request to devise a campaign based on flawed perceptions.
Time for another intro course in the Cinema Hut as Ken and Robin give your their film noir 101.
Coriander meets pate as the Food Hut investigates the banh mi, a sandwich whose flavors are as complex as its history.
Finally Ken's Time Machine revs up at the behest of backer Rick Neal, who wants to know just what was up when Jack Parsons met L. Ron Hubbard to attempt the Babylon Working.
---
Get trapped in Lovecraft's story "The Call of Cthulhu" in Atlas Games' addictive new card game Lost in R'lyeh. Take a selfie with your purchased copy of the game at your brick and mortar game retailer and send it to Atlas to claim your special Ken and Robin promo card.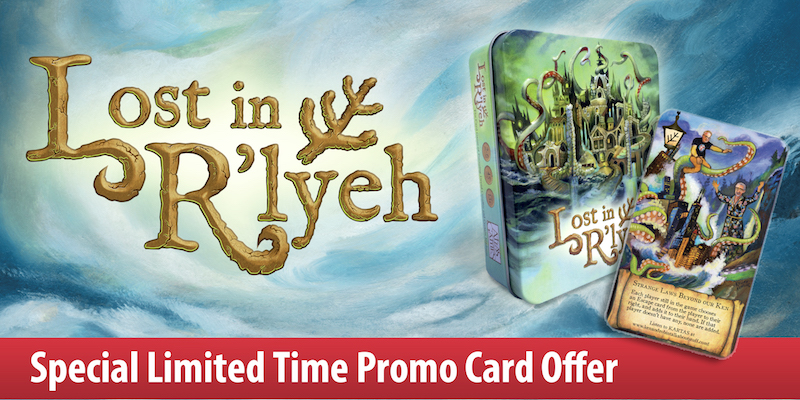 Do intervals between Ken's Time Machine segments leave you listless, bored, and itchy? Then you're in luck, because TimeWatch, the wild and woolly GUMSHOE game of chrono-hopping adventure has now blasted its way into our reality. Brought to you by master of over-the-top fast-paced fun Kevin Kulp and our reality-maintaining overlords at Pelgrane Press.
For those seeking yet more Ken content, his brilliant pieces on parasitic gaming, alternate Newtons, Dacian werewolves and more now lurk among the sparkling bounty of The Best of FENIX Volumes 1-3, from returning sponsors Askfageln. Yes, it's Sweden's favorite RPG magazine, now beautifully collected. Warning: not in Swedish.
Attention, operatives of Delta Green, the ultra-covert agency charged with battling the contemporary forces of the Cthulhu Mythos! Now everything you need to know to play Delta Green: The Roleplaying Game, perhaps extending your valiantly short field life, can be found in the Delta Green Agent's Handbook.
Podcast: Play in new window | Download