Posts Tagged 'Top ten movies'
February 22nd, 2019 | Robin

In the Gaming Hut we contemplate lunar havoc as Patreon backer Ray Slakinski asks us to turn Project A119 into a Fall of Delta Green scenario.
We walk the red carpet into the Cinema Hut as we indulge in our traditional pre-Oscar look back at our favorite films from the previous year.
Then backer Gerald Sears asks the Consulting Occultist to fill a game set in late 20s New York City with historical esoteric weirdness.
Want to pose a question to the show? Get your priority question asking access with your support for the KARTAS Patreon!
Snag Ken and Robin merchandise at TeePublic.
---
A precious few Deluxe copies of  Cogs and Commissars, clever card game of are available directly from Atlas Games.  The "Most-Equal 'Apparatchik' Edition" features wooden screen-printed Citizen tokens, neoprene mats for each faction leader, and a foil-stamped, spot-gloss, magnetic-closure box. Seize the means of collectibility!
Ken's latest roleplaying game, The Fall of Delta Green, is now available in print or PDF or both from Pelgrane Press. Journey to the head-spinning chaos of the late 1960s, back when everyone's favorite anti-Cthulhu special ops agency hadn't gone rogue yet, for this pulse-pounding GUMSHOE game of war, covert action, and Mythos horror.
The treasures of Askfageln can be found at DriveThruRPG. Get all issues of FENIX since 2013 available in special English editions. Score metric oodles of Ken Hite gaming goodness, along with equally stellar pieces by Graeme Davis and Pete Nash.Warning: in English, not in Swedish. In English, not Swedish. While you're at it, grab DICE and Freeway Warrior!
Just in time to save the world, though perhaps not your team of hardened covert agents, from the Mythos, the Delta Green Handlers Guide from Arc Dream Publishing is now in print and either at or headed to a game store near you. The slipcase print edition includes both the Handlers' Guide and Agents' Handbook, fitting snugly into your go bag along with your extra passports and list of weapons caches.
Podcast: Play in new window | Download
March 2nd, 2018 | Robin
In the Gaming Hut we put up our dukes and look at ways to frame fights that advance the story.
Oscar time is upon us, so as is our annual wont we pop into the Cinema Hut for a look back at our favorite films of 2017.
Recovering from the red carpet, we visit the Consulting Occultist, who has been checking out the initial offerings placed online by the Ritman Library of occult texts.
Want to pose a question to the show? Get your priority question asking access with your support for the KARTAS Patreon!
Snag Ken and Robin merchandise at TeePublic.
---
In Atlas Games' wickedly different cooperative deck-building game Witches of the Revolution, you and your doughty coven fight the American Revolution the way it was really fought: with spells aplenty! Resurrect Ben Franklin, cure Paul Revere of lycanthropy and keep those red-coated witch hunters at bay.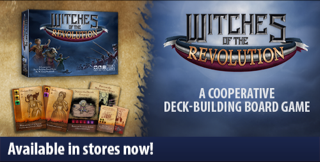 It wasn't on the maps. No one talked about it. But now you live there. Cthulhu City. Where the mayor goes everywhere with twin sacred jaguars, and the chief of police blinks at your with fishy eyes. Where the cultists run city hall and the investigators are hunted criminals. Cthulhu City, the new Trail of Cthulhu sourcebook from Pelgrane Press, by Gareth Ryder-Hanrahan.
Navigate your love of the Lone Wolf game books and/or fantasy inspired by medieval Italy with the Sommerlund Map set Kickstarter from Askfageln. Revel in 1o gorgeous maps inspired by Joe Dever's classic fantasy setting and the city of Bologna.
With your Handlers Guide already at your side, it's time to assemble some operations to spiral your Delta Green operatives into paranoia and Mythos horror. Delta Green: A Night at the Opera features six terrifying adventures from the conspiratorial minds of Dennis Detwiller, Shane Ivey, and Greg Stolze. Preorder before it's desperately too late!
Podcast: Play in new window | Download
February 24th, 2017 | Robin
Know us by our funny voices and exaggerated mannerisms as we meet in the Gaming Hut to discuss what makes a Game Master character easy to play.
Grab a mojito and light a fine cigar as Ken supplies a Travel Advisory on his recent jaunt to Cuba.
It's Oscar time, and you know what that means. Months after the rest of the critical world, we take our seats in the Cinema Hut to reveal our Top Ten Movie lists for 2016.
Snag Ken and Robin merchandise at TeePublic.
---
Wish to introduce innocent children to the horror of the Mythos, while remaining on budget? Atlas Games is here to affordably twist young minds with a buy two, get one free deal on Ken's Mini Mythos line of childrens' book parodies: Where the Deep Ones Are, Cliffourd the Big Red God, and Antarctic Express.
Want to plunge headlong into Lovecraftian mystery, but lack a gaming group? Want to introduce a friend or loved one to the roleplaying hobby? GUMSHOE One-2-One has come to your rescue! Find this new system by some guy named Robin D. Laws, in the line's flagship title, Cthulhu Confidential. Now pre-ordering at the Pelgrane Press store.
Do intervals between episodes plunge you into Hite withdrawal? Never fear! his brilliant pieces on parasitic gaming, alternate Newtons, Dacian werewolves and more now lurk among the sparkling bounty of The Best of FENIX Volumes 1-3, from returning sponsors Askfageln. Yes, it's Sweden's favorite RPG magazine, now beautifully collected. Warning: not in Swedish.
John Scott Tynes' Puppetland is ready to knock the stuffing out of a game store near you in its gorgeous new full-color hardcover edition. Join the good folks at Arc Dream in battling the horrific forces of Punch the Maker-Killer!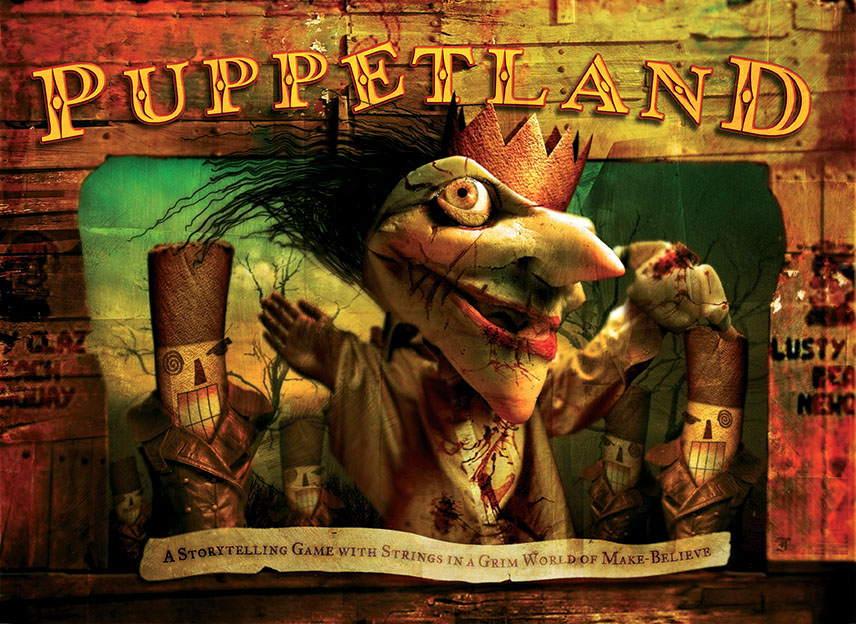 Podcast: Play in new window | Download